2019 – what is it likely to mean to the world of Marketing?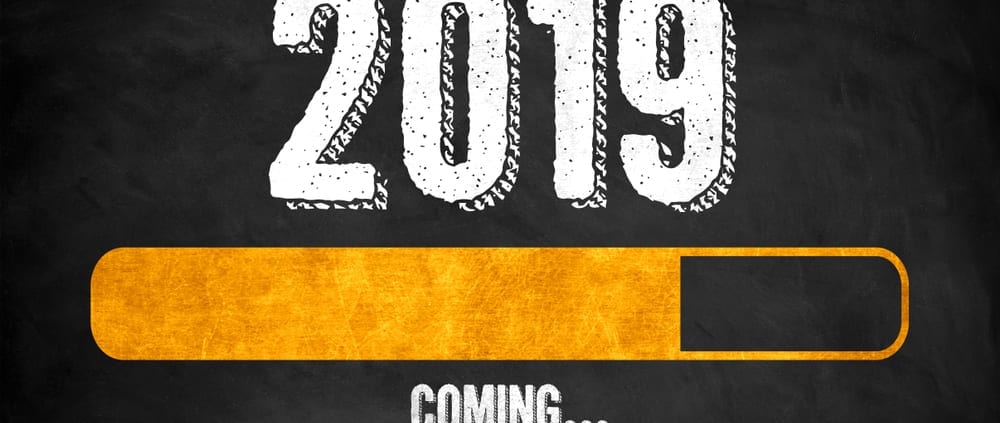 As one year draws to a close and another is just about to start, it is a good time to try and look forward to the next year and reflect on likely changes over the next 12 months and how these may impact on your marketing and priorities. In this blog we look at some of the key themes that we think are going to emerge.
1. The growth of voice search
With the phenomenal growth in the likes of Amazon Echo, Amazon Dot and Google Home it is little wonder that volumes of voice searches are climbing fast. Estimates already suggest that 20% of Google Searches on mobiles are voice searches. By 2020 it is predicted that every major brand will have a voice strategy. It is also likely that we will see Google introduce a new category of ad campaign specifically for voice searches. Google's own research has shown that "near me now" searches have grown by 150% over the last two years.
What can you do straight away to enhance your voice search presence? First and foremost if you have not already done so, claim your Google My Business listing (more on these later), ensure they are fully populated. Voice searches are 3 times more likely to be local in their nature. If you are not already doing so, start blogging and try to build into these the longer question type phrases that people may use e.g, How can I improve my marketing in 2019?
2. Embrace Google My Business and make the most of it, whilst it is all still free
Hopefully if you are reading this, you will have already claimed your Google My Business page. These are the boxes that appear top right when you search for a specific brand or company (you can see ours here) and what drives the maps with red teardrops on when you search a category (see below example).
If you haven't already claimed your page, then do it now.  If you search for your business, and a box appears with wording something along the lines of "Do you own this business" or "Claim this business" then click on this and follow the steps to claim the page (Google has set up pages for many existing businesses in readiness for them to claim them). When you Google if no page exists then go to the Google My Business homepage and click on the green button start now.
See how you compare with reviews, both in terms of number and score. Having more reviews and a higher score can be very powerful for businesses where their market is predominantly local. Cheeky mention that if you work with us and haven't reviewed us on Google or Facebook, please feel free to do so.
Get into the habit of posting regular Post Updates. These can be highly effective and are completely free promotional updates that appear in your Google My Business box. Post regularly and compare their performance to hone these as a tool. These are completely free at present, but we would not be surprised if 2019 saw Google introduce charges for these. We have seen many of our clients see very good results from these this year.
3. Video's importance will continue to grow
Opinions differ on the extent to which videos on your website can help with the Search Engine Optimisation (SEO) of the site. Cisco however predict that 82% of global consumer internet activity will be video related by 2021.
Why else might you want to embrace video if it may or may not benefit SEO? A growing proportion of people prefer to watch a video than a long block of text. Even in a study of business executives when asked whether they would prefer video or text, 59% said video. Embedding videos on your website can reduce the bounce rate on a page and increase the dwell time on a page which can be beneficial for the Google quality store. Also other sites are more likely to link to pages with video on them. One study found that 85% of interactions can be attributed to images on social media posts, whereas another suggested that video can outperform static images by over 130%.
Whilst all of this is good news for video production companies, more home grown knowledge based videos and animated style videos that businesses can produce at a modest cost are also likely to increase.
4. Internal Marketing (or Internal Communications) will grow in importance
We are currently operating in a very tight job market with historically low levels of unemployment and shortages of skilled employees in many sectors. On a regular basis, we hear clients say that one of their biggest challenges is finding skilled people.
Despite this situation many firms (particularly medium sized ones who perhaps don't have a dedicated resources, yet also don't have the advantages that much smaller ones have of one to one communication with the decision maker in the business) are not taking internal marketing/communications seriously enough. Do you really know how engaged your staff are, how many understand what the business is trying to achieve and what their role is in this? How many of your staff will be waking up on New Year's Day with the new Year's resolution of finding their next role?
Of course, communication is just one factor in the overall pay, benefits and wellbeing of employees, but how many employers would not want to reduce staff turnover?
5. More and more businesses will embrace integrated marketing
The choice of marketing routes and tactics can seem bewildering and most businesses will have a wide array of forms of marketing at their disposal – website, social media, direct mail, newsletters, email to name just a few. Used together in a structured planned manner focussing on particular campaigns, products and services, these can be incredibly powerful and significantly increase return on investment from marketing.
Radio, TV and Newspaper industry groups are quick to point out the multiplier effect on response when these are used together and they have a point. Whilst not literally true in every instance, there is an old marketing principle that the average person needs to see on average an advert seven times before they respond. In our fragmented media world and with the explosion of social media, this can be achieved much faster than before.
Challenge yourself, do you have a Marketing Plan  and are your planned activities as integrated as they could or should be?
In writing this blog, we set ourselves the constraint of focussing on what we think may be the biggest things to emerge when it comes to marketing in 2019. Many will have different views and certainly we see things like PR, content marketing, paid for social media activity and website page loading speeds also being a key focus (check out Googles nifty tool for checking this here). We hope though that at the very least we have prompted some debate, or given some food for thought. Of course if you need help with any of the areas that we have covered we would be delighted to hear from you – contact us here. Otherwise we wish you a Happy New Year and a successful 2019 – let's make it a good one.
https://prestburymarketing.co.uk/wp-content/uploads/2018/12/2019-is-coming.jpg
689
1000
Darren Stevens
https://prestburymarketing.co.uk/wp-content/uploads/2016/01/PMlogo.jpg
Darren Stevens
2018-12-30 11:22:08
2018-12-30 11:31:35
2019 – what is it likely to mean to the world of Marketing?